Greetings from England
Chipping Sodbury
March 12, 2013
Here's a brief recap of the year so far.


and more snow…
By John on February 4, 2013 1:22 PM , Filed Under Eventing Nation
In the past, when US riders have headed over to train permanently in England, they did so with the full understanding that they were more or less unplugging from the US team system.  They were trading attention from the team for the best competitive environment in the world.  Like so many other traditions of the past, having to make that trade-off has died with the new US eventing program.  Instead of taking a weekend off, David hopped on a plane after the Ocala sessions and went to England to coach up British based riders Jules Stiller, Clark Montgomery, and Tiana Coudray.  Tiana was kind enough to write to us about her experience from the training sessions.  As always, Tiana brings a level of understanding to training that belies her age.  Thanks for writing this Tiana and thank you for reading.
—-
From Tiana: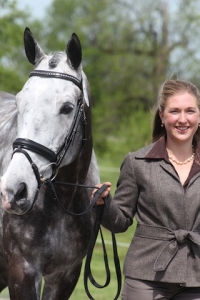 To start off, my report of our training session is going to be a little different from the California and Ocala recaps. We only had Saturday afternoon and Sunday morning, and, with just myself, Clark Montgomery, and Julian Stiller, it was a very small group, so lessons changed over fast. I had three horses and Jules and Clark each rode two so there was very little time to watch anyone else. Most of all, in place of the oppressive 70* weather and cancer-causing UV rays everyone has had to endure so far back home, we're in the UK. This means that for anything to take place, it requires a full kettle of boiling water, a ready supply of tea or coffee, and 6 more layers of winter clothing. Frequent discussion about the weather, although not required, is highly recommended. For myself and Jules, this all is a prerequisite and doesn't require much thought anymore. I wonder for Clark however if the consequences of his new relocation to the UK are still sinking in. Ah, what we do for the love of our sport!
At any rate, I was eager and anxious for this weekend to come as I have never ridden with David before. So while many American riders have grown up under the O'Connors and consider David and Karen a pair of surrogate parents, for me, this was David 1.0.  I like knowing what is expected of me, what a teacher is looking for, and I really like knowing the answers to the test.  When you ride with a new coach, you are starting from scratch.  You start with building an understanding with each other of expectations and respect, and until you are both on the same page you cannot begin to move forward.  With a coach I know really well, I can start a sentence and they could finish it, and visa versa.  You have history and context for where you have come from and where you are headed.  I can do my homework and come to class ready with the answers because I know what is expected.  Seeing Clark with David, this is the relationship they have. For Jules, myself, and many riders across America, that understanding has to start now. In the process, things you know and do well can turn into a game of Twister.  The aids for trot turn into "Right Hand Green, Left Foot Blue, try not to topple over."  Simple movements become mechanical and artificial as you break apart things that usually happen all as one.  By my third dressage lesson Saturday, I thought David and myself were starting to speak the same language and understand one another.  But then Sunday we were jumping, and that brought on more unknowns.
In my first lesson, David changed my gag rein onto the snaffle, and when Finian bolted with me across the school thinking this was hilarious, David said to me "twist your hips."  As I attempted a rendition of the twist and shout to no avail at full gallop, David shouted "NO, TWIST YOUR HIPS!!!"  So I tried more vigorously, as around the arena we went.  Strangely this didn't have the affect he and I were seeking.  Clark was forced to sit for 15 minutes while David and I got ourselves back on the same page, Loughan Glen wearing a knowing look on his face.  As I rode my second and third horses, just like the day prior, things came easier and quicker.  I found I understood more and more what David was asking to see, and that we were able to have a good discussion at the end about all three horses and what the homework is for each one.
I know that you have to lay a solid foundation before you can build a good structure, and this training session, for me, was the beginning stages of that foundation.  Hopefully, by the next time David sees me and the horses, we will have done our homework properly and we will have progressed to David 2.0 or further.  I will say that without exception, all the horses looked wonderful and very exciting for the future. With as good a group of horses as we all have, we can honestly plan to take on not just the UK, but the World.  Lastly, thank you to David, Jules, and everyone else involved for allowing us to have a great two days of lessons at a superb facility.
 3-4-13 – Facebook update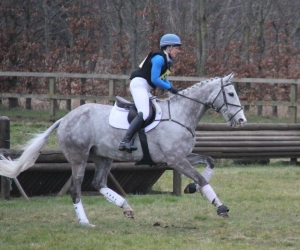 Great start to the season at Isleham horse trials for Finn and Ken.  Finn gave me a great feel all three phases and Ken was fab for two out of the three. I've also discovered what bit DOESN'T work for cross country. Trial and error. Guess we'll be digging through the bit box before next event.