Owners:
Jatial, INC
Stable name:
Finn
Sire:
Master Imp
Dam:
Clonkeen View
Colour/Sex:
Grey/Gelding
Foaled:
2001
BE points: 703
Top results:
1st Twin Rivers CCI1*
1st Galway Downs CCI1*
2nd Twin Rivers CCI2*
7th NAJYRC CCI2*
2nd Twin Rivers CIC2*
14th Fair Hill CCI2*
USEF Young Event Horse Champion (2008)
3rd Jersey Fresh CIC3*
2nd Twin Rivers CIC3*
1st Galway Downs CIC3*
1st Jersey Fresh CCI3*
6th Boekelo CCI3* 2010
2nd Blenheim CCI3* 2011
11th Saumur CCI3*2012
5th Barbury CIC3*2012
Member of the Olympic US event team 2012
17th Badminton CCI4*2013
10th Aachen CICO3* 2013
25th Badminton CCI4* 2014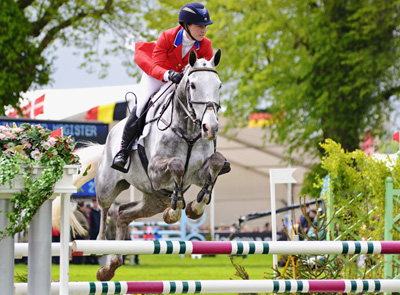 Tiana has produced Finn from a 3 year old and he is a horse of a lifetime, his results above speak for themselves. Finn and Tiana have represented America as a young rider and a senior including at the Olympics in 2012. Tiana is looking forward to exciting competitions ahead and Finn definitely holds a special place in Tiana's heart.