Amber Heintzberger 
Gloucestershire, England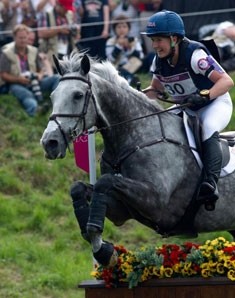 British-based US three-day event rider Tiana Coudray, 23, and her horse Ringwood Magister have completed their first Olympic Games as members of the 7th-placed team and in 40th place individually. Overall 74 individuals representing 13 countries competed in the Olympic three-day event, or "triathlon of horse sports", consisting of dressage, cross-country and show jumping.
A native of Santa Barbara, CA who has been based in England for the past year in preparation for the team selection process and Olympic Games, Coudray and Ringwood Magister, her 11-year-old Irish Sport Horse gelding by Master Imp, were selected to the team after finishing best of the Americans at the final mandatory outing at Barbury Castle International three-day event in England in July.
At the Olympic Games, held in Greenwich Park, Coudray and "Finn" scored a 52 to stand 18th after dressage, with the US team taking the bronze medal position after the first phase of competition. On cross-country the pair had an unfortunate run out at the "b" element of fence 3, the Bandstand Rails, but regained their composure and in spite of a thrown shoe in the reportedly slippery footing, they were able to complete the rest of the course on a score of 77.6 penalties, in 30th place individually. It was a tough course with many tight turns and technical fences, as well as the slick footing, and caught out many experienced Olympians; several riders were disqualified after falling from their horses at the third fence.
After teammate Boyd Martin's horse was withdrawn from the competition due to lameness, Coudray's show jumping score was important for the team, and a fast round would make all the difference to the team result. In her attempt to make the optimum time Coudray had two rails down, finishing on a final score of 88.6.
"My horse is a super jumper and I can count the rails he's had in the last few years," said Coudray. "I think we compromised a few rails for the sake of going fast."
While she was hoping for a better result overall, Coudray is pleased with all that she learned from her first Olympics. "When you're in a team situation, you have to stick to what you know and try to ride your horse the way you always do, but there are a lot of different influences and new things to absorb," she said.
Prior to the Games, Coudray and Finn took part in the team training camp, working with team coaches Capt. Mark Phillips and Lauren Hough. Currently based at British eventer Nick Gauntlett's Chescombe Farm in South Gloucestershire, England, Coudray plans to continue training and competing abroad in hopes of qualifying for the 2014 World Equestrian Games in Normandy, France
"I do get to compete Nick's horses, which is great because it gets me out to the events and gives me more mileage – it's a huge plus of being here," she said. Looking forward, she commented, "It's hard to lay a finger on what is so different about the team experience, and the Olympic experience, but there's something about it – you have to go through it to know how to prepare for it in the future. Coming home on the train, I had time to think about the Olympic experience. I now have some very clear ideas about where I need to be and what I need to be doing for the next two years before the WEG and the next four years before the Olympics in Rio, both with trying to build up a string of horses and how to prepare those horses for a major championship."
Photo: Tiana Coudray and Ringwood Magister, competing for USA, at fence 20, during the cross-country phase of the Eventing during the 2012 Olympic Games in Greenwich Park, London. Photo copyright Henry Bucklow/Lazy Photography